Monschau is a small resort town in the Eifel region of western Germany, located in the Aachen district of North Rhine-Westphalia.
The town is located in the hills of the North Eifel, within the Hohes Venn – Eifel Nature Park in the narrow valley of the Rur river. The historic town center has many preserved half-timbered houses and narrow streets have remained nearly unchanged for 300 years, making the town a popular tourist attraction nowadays. An open-air, classical music festival is staged annually at Burg Monschau. Historically, the main industry of the town was cloth-mills.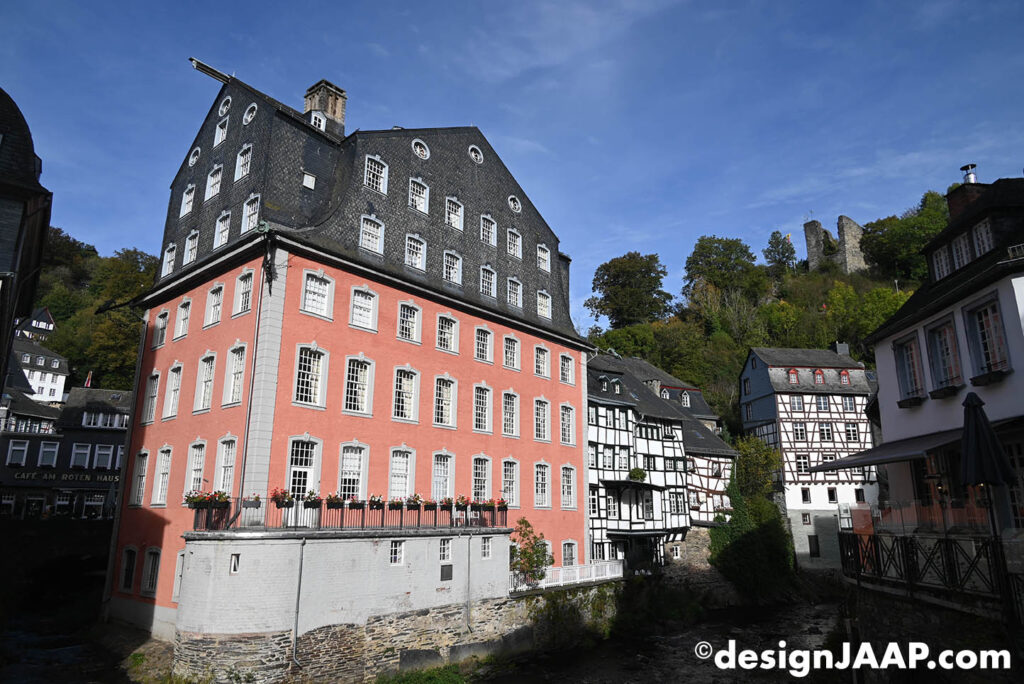 On the heights above the city is Monschau castle, which dates back to the 13th century — the first mention of Monschau was made in 1198. Beginning in 1433, the castle was used as a seat of the dukes of Jülich. In 1543, Emperor Charles V besieged it as part of the Guelders Wars, captured it and plundered the town. However, the castle stayed with Jülich until 1609, when it became part of Palatinate-Neuburg.
In 1795, the French captured the area and, under the name Montjoie, made it the capital of a canton of the Roer département. After the area became part of the Kingdom of Prussia in 1815, Monschau became the district capital of the Kreis Montjoie.
During World War I, some people argued that Monschau (or "Montjoie" as it was then still called) should be annexed to Belgium since they believed it historically to be a Walloon area that had been Germanized by the Prussians.
In 1918, William II, German Emperor, changed the name to Monschau.
During World War II the town of Monschau, sitting on a vital road network, was a point of great tactical importance in the opening phase of the Battle of the Bulge in December 1944 as the northernmost point of the battlefront.
Here is a photographic impression of the city of Monschau.