Plectorhinchus lineatus, also known as the yellowbanded sweetlips, oblique-banded sweetlips, diagonal-banded sweetlips, Goldman's sweetlips, lined blubber-lips, lined sweetlips, many-lined sweetlips, striped sweetlips and yellowband sweetlips, is a species of marine ray-finned fish, a sweetlips belonging to the subfamily Plectorhinchinae, one of two subfamilies in the family Haemulidae, the grunts. It inhabits coral reefs of the western Pacific Ocean, where it occurs at depths from 1 to 35 m.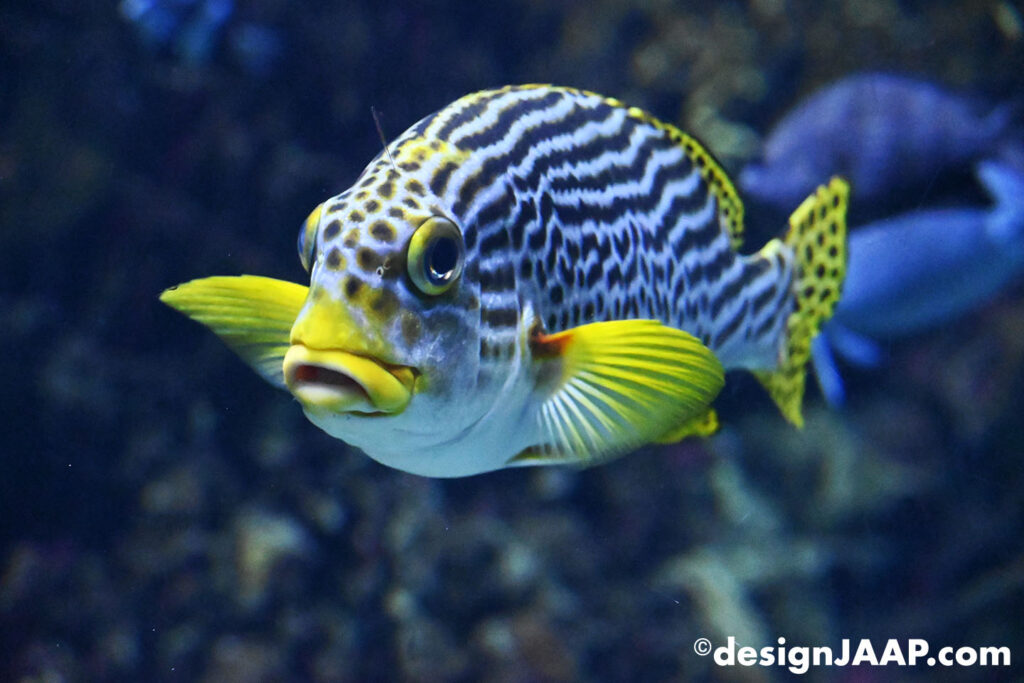 Yellowbanded sweetlips (Plectorhinchus lineatus) in Rotterdam Zoo
Plectorhinchus lineatus is found in the eastern Indian Ocean and western Pacific Ocean. Its range extends from Indonesia east to Philippines and New Ireland, north to the Ryukyu Islands and Ogasawara Islands, south to New Caledonia and Australia In Australia it is found at Scott Reef in Western Australia, Ashmore Reef in the Timor Sea and along the Great Barrier Reef as far south as the Capricorn Islands and the Gold Coast Seaway in Queensland.
Plectorhinchus lineatus occurs in deep waters, at depths between 1 and 35 m, in both the inner and the outer reefs. Here it may be encountered either singly or in groups along coral slopes in clear water. The juveniles are solitary and are found on shallow, sheltered reefs. Typically nocturnal, they forage on open areas of sand and in beds of sea grass for benthic invertebrates during the night and resting during the day.
Here is an impression of animal photography of photography the Yellowbanded sweetlips (Plectorhinchus lineatus in Rotterdam Zoo.